Boat Manufacturers
Boating News and Events
Charter
Designers
Gear
General - links
Handyman Stuff
Homepages
Magazines, Articles etc.
Newsgroups
Organizations
Used boats
Weather, Tides, Maps

Missing something??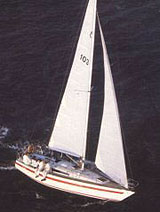 This is a collection of English speaking links. You'll find a lot more - Norwegian only - on the Norwegian list




Boat Manufacturers:
Listing of Sailboat Manufacturers Inter-Lake Yachting Assosiation
African Cats (Netherlands) "Green" catamarans / Electric/hybrid
Alden Yachts (US)
Alliaura (France) Feelings monohulls & Privilége catamarans
AluBat (France) Aluminium boats
Alwoplast (Chile) Kamataraner
Baltic Yachts (US)
Bavaria Yachts (Germany)
Beneteau Boats (France)
Bowman Yachts Ltd (England) Bowman, Rustler & Starlight
Brazapi (Belgium) Catamarans
Bristol Yachts (US)
Broadblue Catamarans (England)
C&C Yachts (US)
Cabo Rico Custom Yachts (US) Cambria og Northeast
Catalina Yachts (US)
Catana (France) Catamarans
Celebrity Yachting (Canada) Monohulls & catamarans
Cenit (Sweden)
Chantier Alubat (France)
Colvic Craft (England)
Comar Yachts (Italy) Comet
Comfort (Sweden) *Network problems*
Contest Yachts (Nederland)
CR Yachts (Sweden)
Dean Catamarans (South Africa) Luxury catamarans
Degerö Yachts (Finland) with nice, German site
Dehler Yachtbau (Germany)
Diva Favab AB (Sweden) Fabola Diva / Fabola Campus
Dragonfly (Denmark) Foldable trimarans
Dufour Yachts (US) Classic, CC, Gib'Sea, Atoll, Nautitech
Elan / Impression
Ericson Yachts (Canada) Pascific Seacraft
Etap Yachting (Belgium)
Fantasi Yachts (Sweden)
Farr International (US)
Farr MRX Fleet (New Zealand) Built by McDell Marine
Farr Pilot House Yachts (Sweden)
Faurby Yachts (Denmark)
Finngulf Yachts (Finland)
Fountaine Pajot (France) Catamarans
Galileo Yachts (France) Arkona luxury catamarans from 67'
Garcia Aluminium (France)
Grand Soleil (Italy)
Gunboat (US) Carbon/kevlar luxurious catamarans
Hallberg-Rassy (Sweden)
Hanse Yachts (Germany)
HP Boats (Sweden)
Hunter (England)
Hunter (US)
Irwin Yachts (US)
Island Packet Yachts (US)
JBoats (US)
Jeanneau (France)
Kanter Yachts (US)
Linjett (Sweden)
Lagoon (France) Catamarans
Malö Yachts (Sweden)
Maxi Yachts (Sweden)
Mabi Yachts (Sweden)
Melges Performance Sailboats (US)
Moody (England)
Motiva Yachts (Denmark)
Najad (Sweden)
Nauticat Motorsailers (Finland) Beautiful liveonboard Pilothouse sailer
Nautitech (France) Catamarans
Nautor's Swan Yachts (Finland)
Nordship (Denmark) Pilothouse!
Norfolk Gypsy (Classic design w/Gunter rig from 1989)
Northshore (England)
Outremer (France) Catamarans
Oyster (England)
Pacific Seacraft (Canada) Pilothouse
Prout Catamarans (Canada)
Robertson and Caine (South Africa) Catamarans
Rustler Yachts (England)
Sabre Yachts (US)
Saga Yachts (Canada)
SeaFinn (Finland) Motor sailers
Seawind (Australia) Catamarans
Sirius (Germany) Pilothouse yachts
SMG Multihull (South Africa) Catamarans
St Francis (South Africa) Catamarans
Sunwind Yachts (Finland)
Sweden Yachts (Sweden)
Swan (Finland)
Taswell Cruising Yachts (Taiwan)
Tournier Marine (France) Catamarans
Valiant Yachts (US)
Wally Yachts
Wasa Yachts (Sweden)
Wauguiez Yachts (France)
X-Yachts (Denmark)e



Boating News and Events:
America's Cup
Salty Seas Shetland Race 2001
Volvo Ocean Race (Official Web Site) (Former Whitbread)



Charter:
Arctic Circle Yachting Bodø
Boat4you (Denmark)
Boreal Yachting Tromsø, Northern Norway. Charter etc.
Explore North Ålesund-based ski/sail adventures to Lofoten, Hjørundfjorden, Shetland, Spitsbergen, Helgeland
GoSailing Yachtcharter Charter (monohulls og catamarans) in the Aegean and Mediterranean Ocean
Norpol Yachting (Polen/Norway) Adriatic, eventually worldwise
Yacht-Search.net (England)
Salty Seas Yacht Charter Ltd. (Norway) Sailing holidays worldwide
Scandinavian Charter Yachts (Worldwide)
Sirius Yacht Services (Norway) Charter, delivery, Agency, Pilotage etc.
Swede Charter (Sverige)
United Seasports (Denmark) Worldwise



Designers:
Farr, Bruce
Löngren, Guy Christer (Finland) More
Magnusson, Rolf (Sverige)



Gear:
Ausolar, Alternative Energy, Renewable and Solar Power Systems (Australia)
Autohelm Produced by Raytheon Marine/RayMarine
C-MAP Norway A/S
Dickinson Marine Marine stoves, heaters
Elvström Sails (Denmark)
eMarine (US) Wind generators, sorar panels, batteries etc.
Facnor (France)
Flensburger Yacht-Service - Online Shop (German)
Forkis Sails (Poland) Good quality, nice price
Furuno
Gill sailing gear
Gransegel (Sweden)
Harken (US) Online Store
Helly Hansen (Norway) Technical clothing
Lewmar
Marine Gear and Hardware - MarineWaypoints.com
Mauri Pro Sailing (US) 'Your direct access to sailing solutions' - a wide range of equipment
Musto clothing etc.
Nauquip Andersen, Easy etc.
North Sails UK (England) Sails
Onlinemarine (US)
Raytheon Marine - Products, alt. RayMarine (Autohelm)
Refleks Olieovne (Denmark)
Rössy Kapell Sprayhoods, cockpit-covers
Seldén Masts etc. Furlex jib furler
Sigmar Marine Products Ltd Marine diesel heaters and stoves
Silva Marine (Sweden) Marine electronics
ShipShop - Fachausrüster für Fahrtensegler und Meer
Spinlock Rope holding
Supercool (Sweden) Air-to-Air systems, Thermoelectric assemblies etc.
Volvo Penta (Sweden)
Wallas (Finland) Boat/diesel heaters, heating, stoves
YachtsPeople.com (England)
Yacht-Shop (Germany) Der Online Yacht und Bootsausrüster



General - links:
AboarD Boat and Yachts Marked (England) Builders/Brokers/Charter
American Boating Directory
Bcryachts.com (France)
Boat Owner's World for Boats, Boating, Sailing, Classified, Magazines, and much more!
Boating Safety Resource Page - Boating Safety Information
Boatlinks.com
BoatNet - Maritime Online Worldwide
BoatShow on the Internet (US/UK)
Cruisers Forum "The Global Discussion Board for World Cruising Sailors and Wannabes"
European Sailing-Informationsystem (Germany... in German)
FinnSail.com Sailing and Sailing Links
Iwaterways.com - boatguide
John's Nautical & Boatbuilding Page Lots and lots of maritime links
Madforsailing.com
MarineWaypoints.com (US) Lots and lots....
Marine Web (US)
MarineSource.com (US) Gate
NauticExpo The Virtual Boat Show
Nautisk forlag (Norway) Lots of links
Nettsurfer Marine (Norway)
Noonsite.com The Global Site for Cruising Sailors (Jimmy Cornell)
Online Yacht Club (US) inkl.Compuserve Sailing Forum
Sailingsource.com (USA)
Sports.com Sailing
Yacht.de Die Tagesnews für Segler (Germany)
Yachting Universe
Udkik (Denmark) (Lots of stuff)



Handyman stuff:



Homepages:
Morgan's Cloud John Harries and Phyllis Nickel, sailing in Norway
Nirvana (of Høyanger) Dutch steel and Norwegian wood. Beautiful!
Spirit of Islay home page (Norwegian) Elan 40
Johan Hustadnes' homepage with sailing to 80 degrees nortn and Beerenberg
Underveis.net Around the world-project, in a Lofoten based Hero 101



Magazines, Articles etc.
Blue Water Sailing Magazine
Boating Safety
Cruising World & Sailing World Magazines
Latitude 38 (US)
Nautica Online Magazine (Italy)
Nautisk forslag (Norway)
Noonsite.com Jimmy Cornell's stuff
Norwegian Cruising Guide (John Armitage)
Online Yacht Club (US)
Sail Magazine 2000 Buyer's Guide
Sail Online (France)
Sail trim and rig tuning (Book with 150 particularly descriptive colour illustrations. Perfect!)
Sailing Breezes Magazine
Sailing Magazine (US)
Sailing Page (Mark Rosenstein) (Lots of stuff!)
Sailors Sourcebook Online (Cruising/Sailing World)
Sailnet (US)
Smartguide.com (US) Gate
SpinSheet Magazine (US)
Yachting (US)



Newsgroups:
alt.sailing
alt.sailing.asa
rec.boats
rec.boats.building
rec.boats.cruising
uk.rec.sailing



Organizations, Clubs:
Anna Rogdes VennerThe world's oldest sailing schooner? In Harstad, Northern Norway
International Sailing Federation
Nesna Boat Owners Association
Volvo Ocean Race (Official Web Site) (Former Whitbread)



Used boats:
ABL Sail Boat Search
American Boat Listing - Sailboats
Ancasta International Boat Sales
Helmarin (Finland)
Boat Buyers Showcase now merged into BoatUS Classified Ads
Boat4you (Denmark)
BoatFinders USA (Stockholm & Fort Lauderdale)
Boatnet Sailboat Search
BoatListings (US)
Boatmatch.com (UK)
BoatTraderOnline.com (US)
Don Robertson's Marine Marketplace (US)
Fastnet International Yacht Brokerage (Ireland)
Florida Yacht Charters and Sales, Inc (US)
MarineSource.com (US)
Norpol Yachting (Polen/Norway)
Sail Magazine 2000 Buyer's Guide
Sailboat Buyers Guide (US)
ScandiMarine Ltd (Sweden)
Sell-A-Boat.Com Lots
The Catamaran Company
Transworld Yachts (England) Hallberg-Rassy
Triton Yachts Sales (US)
Waterwerf (Netherland)
Yacht-Search.net (England)
Yachting and Boating World (ybw.com) "Europe's No.1 Marine Website"
Yachts 4 Sail (Canada)
Yachts-Online (US)
YachtWorld (Boats for sale, brokers and builders)



Weather, Tides, VHF, Maps, Navigation:
Furuno GP3x software
Global Weather Resources (MarineWaypoints.com)
Meteorogram from Storm Weather Center
Norwegian Meteorological Institute Maritime forecast in English and Tide Table ("Flo og fjære") General Forecast
NV-PortPilot Ports in Northern Europe
OziExplorer GPS Mapping Software More GPS/Ozi-stuff (software, maps etc.)
SeNorge.no Snow, weather, water og climate in Norway
Telenor Networks Maritime Radio
Tides & Currents (MarineWaypoints.com)
Worldcrusing.net (Automated position reporting system)

---
Missing something? Links I just CAN'T do without? Or wrong url's, "page not found" etc? Please spend a minute or two writing it down to me, so this list can be as complete as possible. Thanks.